Nelson Mamey, Newport Beach, CA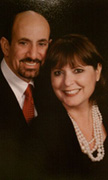 Dear Susan, Thank you again for helping me find the perfect ring. You were able to take my wishes for the ideal engagement ring and turn them into more than I expected. Your guidance through the process made everything so easy. Both my wife and I will be eternally grateful.
Susan Nelson, Mt. Laurel, N.J.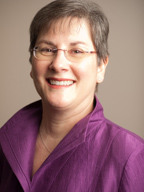 I recently purchased a diamond necklace from Susan Smith Jewelers. My husband and I have talked about this for years but could never carve out enough time to shop for one. Initially, I wondered how an online jewelry purchase would work. After all, you couldn't "see" the pieces. I was so pleasantly surprised by my experience with Susan. After only one exchange of email, she understood my style and preferences and responded with a number of unique pieces to chooe from. Two more exchanges later and I had selected my piece. My purchase was accomplished with little time and effort and from the comfort of my home office.
Lawrence D. Fenzel, Orange CA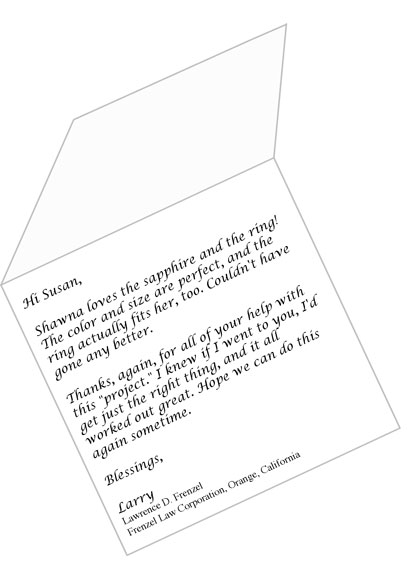 Jonathan Hui, Austin, TX

Finding the perfect engagement ring was an enormous task for me, and Susan was wonderful in assisting me in formulating my ideas and desires into a tangible ring. She is genuine, warm, professional, and were very attentive to the details I wanted while providing valuable insight and knowledge of diamonds and rings. Susan answered all my questions, addressed my hesitations, and helped me to choose a diamond ring that was beautiful and more sparkly than I had hoped for or could afford at conventional stores. The ring is perfect for my fiance and more importantly, she loves it!
Trish and Sean, West Chester, PA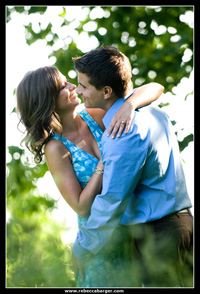 Photography by Rebecca Barger
The weekend after Valentine's Day, they took their Sunday walk in the February air, to the Cutaloosa Sheep Farm, Trish's favorite place in the whole, wide world. All of a sudden, Sean was on one knee holding the most beautiful diamond ring she had ever seen...with the sheep and geese as witnesses she said yes.
Dick Clemens, Hatfield, PA

I have been working with Susan for at least 20 years now. I have purchased something for my wife and daughter and now my daughter in law every year. I was never disappointed with anything that I have purchased. The quality was excellent and so were the prices. I will continue to purchase from her as will my friends and family.